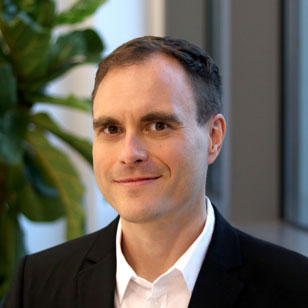 Artificial Intelligence is changing the world, and Indiana University researchers, including faculty from the Luddy School of Informatics, Computing, and Engineering, are exploring multidisciplinary approaches that will make the most of this powerful, expanding tool. From developing new foundational AI algorithms and models to understanding the connections to human cognition, behavior, and health, research in AI will allow us to identify and solve real-world problems faster than ever.
AI now has a new hub on campus, the Luddy Center for Artificial Intelligence. Dean of the Luddy School Joanna Millunchick announced Luddy Professor David Crandall as the center's inaugural director.
The center will draw upon the strength of researchers at the Luddy School as well as collaborators from across IU's extensive range of schools, departments, and programs. It will help coordinate AI activities both within the school and across campus, and support both foundational- and application-oriented AI research.
"This is such an exciting time to be working in AI, and there's so much potential for IU to contribute to AI and for AI to contribute to IU," Crandall said. "I'm honored to be involved in setting up this new center and am looking forward to working with colleagues across campus to figure out how the center can support their work."
The center's goals include helping to catalyze interdisciplinary research projects; providing an "on-ramp" for researchers across the university to use AI in their work; conducting AI-related outreach to the community; organizing seminars and workshops related to AI; and helping attract talented and diverse students and faculty to study AI at IU.
The center will be based in the new Luddy Center for Artificial Intelligence building, which was funded through a transformative, $60 million gift from IU alumnus Fred Luddy – the second-largest private gift in IU history. The $35 million building, which opened in 2021, includes state-of-the-art teaching and learning spaces dedicated to supporting IU faculty and students in conducting pioneering research in AI and its applications.
The new center joins several other AI-related research groups in the Luddy Center for Artificial Intelligence building, including:
"Artificial Intelligence has long been a strength of Indiana University and of our School," said Millunchick. "The Luddy Center for Artificial Intelligence is a tremendous opportunity to bring together the many disciplines across IU that work in AI innovations. David's excellence in research and ability to build collaborative, fruitful partnerships make him the ideal candidate to help advance this initiative on campus."