Sometimes you have to feel like a rat.
Make that a Disney rat, as in Remy, the blue-gray star of the 2007 Disney-Pixar animated film, Ratatouille, and now a new Disney World Epcot ride.
Anny Lu vouches for the benefits of feeling like Remy.
"That was the most memorable part," says the second-year master's student in the higher education and student affairs program. "I was very immersed in Remy's story."
That story reflects the immersion theme so important during a recent seven-day trip to Disney World and Universal for the Luddy School of Informatics, Computing and Engineering course, Disney: Tech, Tourism, and Leisure.
The main objective, says Jennifer Terrell, informatics undergraduate director, senior lecturer and class instructor, was to give students hands-on field experience of the course concepts, and see how technology is used in immersive storytelling.
Lu was among the 18 students and four chaperones who attended in conjunction with students from IUPUI.
"Learning the technology skills is important," Terrell says, "but learning about the people, the experience and emotion is equally as important."
Or, as chaperone and second-year Library Science graduate student Sarah Braunstein, put it, "Not only did students see the parks, they saw the people who make the parks possible."
That was important, Lu says.
"I wanted to understand how Disney puts everything together so seamlessly,"
Studying that in a class was one thing. Experiencing it made a bigger impact that might lead to job opportunities.
"I wanted to see the class concepts in action," Lu says, "and whether Disney was successful in creating the intended experiences."
The short answer -- yes.
The long answer -- let's take a look.
*****
Disney World is known for fun and "Disney magic," but there's more to it. Call it the story behind the story.
A big one comes from Animal Kingdom's Flight of Passage, a ride based on the movie Avatar in which you travel on a flying-creature-like vehicle that breathes and has a heartbeat through an ocean, a desert, caves and forests. The underlying theme -- "rise to the challenge."
"The image I took away is stay curious about the world," Lu says. "I was definitely inspired."
Lu mentions "sociotechnical imaginaries," which are ways of understanding or envisioning the world that guests interpret from their experience with every Disney ride, fireworks display and even restaurants.
Flight of Passage was one. Beaches & Cream Soda Shop at Disney's Beach Club Resort was another.
Beaches & Cream features flavored sodas, malted milk shakes and music golden oldies playing on a jukebox amid bright pastel wall décor and Atlantic seashore nostalgia.
"It transports one to a beach setting with a fun energy," Lu says. "The whole experience was very immersive."
That reflects the trip's three main goals.
First, show students the many job opportunities in the theme-park-and-entertainment industry.
"Our informatics students have lots of talents." Braunstein says, "and this industry allows for a lot of collaboration.
"It also was meaningful for students outside of informatics because they could see other careers or entry points in theme parks or technology they might not have thought of before."
Second, show students technology in action.
Take, for instance, MagicBands, which are plastic bracelets containing RFID radios. Disney uses them to connect guests with data as part of the MyMagic-plus experience. They're used for park entry, access to photo passes, checking into ride lines and linking with others on the Disney app.
"MagicBands speed up the process and makes the theme park experience better for guests," Lu says.
Trackless rides, and the computational technology necessary for them, allows vehicles to move freely. In Epcot's Remy's Ratatouille Adventure, vehicles move as a rat does.
"You get to scurry," Terrell says. "Some people are impressed. Others aren't."
Beyond that, Braunstein says students saw virtual reality come to life on the rides. They saw some of the nitty gritty things that people think, 'Oh, it's magical,' but don't understand why it is.
"We use the lens of technology to understand the science behind the magic," she says.
Third, demonstrate the power of technology in immersive storytelling.
"You see all the immersive components come to life so you feel you're transported somewhere else and immersed in a specific story," Braunstein says.
Immersive storytelling goes beyond theme parks. It includes interactive museum exhibits such as the Van Gogh exhibit touring across America.
'Because of technology," Braunstein says, "it's becoming increasingly more prevalent."
Immersive rides hit all five senses and include 3D elements and larger-than-life props.
Then there's the story. There's always a story.
"You want students to think about the values being taught," Terrell says. "All stories have values. Getting students out of the classroom is incredibly helpful in thinking through how these things work in the real world."
Take Magic Kingdom's popular Haunted Mansion. Terrell has students ride it twice, first as anyone would, the second time with their eyes closed to pay "close attention to the technology of the music," how it starts "creepy" and ends with a fun celebration. Terrell says the Pirates of the Caribbean ride's music has a similar concept.
"We talked about music and lighting to create better immersive theming and storytelling," Braunstein says.
*****
New this year was students attending the International Association of Amusement Parks and Attractions Expo in downtown Orlando. An annual event for the amusement industry, it brings in professionals from theme parks, zoos, aquariums, museums, science centers and family entertainment centers to see new products and attractions.
That allowed students to experience Universal's Islands of Adventure, which included The Wizarding Worlds of Harry Potter.
"We were able to draw comparisons between Universal and Disney World," Braunstein said. "We'd never done that before."
Park differences are as you'd expect -- Disney has more family appeal, Universal draws thrill-seeking pre-teens and older.
Students compared Disney's Flight of Passage with Universal's Reign of Kong, based on King Kong.
"Flight of Passage invokes awe and wonder and all about nature," Terrell says. "With Kong, King Kong is fighting dinosaurs and you're stuck in the middle. It's very scary. It's the thrill.
"Students see the technology in the two rides are similar, but the storytelling is different. That's a powerful thing to learn."
Terrell also had her seven-hour, 16-ride In-Park Class Extravaganza. She guided students through a tour of the rides, providing real-world context to class discussions.
That included Epcot's Frozen Ever After, a slow-moving boat ride and musical tour of the animated movie Frozen's wintry land.
The trip also allowed students to help develop career connections in the themed entertainment industry, explore interdisciplinary company options and virtual reality opportunities.
Ultimately, Terrell says students got to experience informatics in the real world.
"That sounds ironic when you take them to a fantasy world, but think of everything required to pull it off. This is where they can find informatics and see technology used in interesting and innovative ways."
*****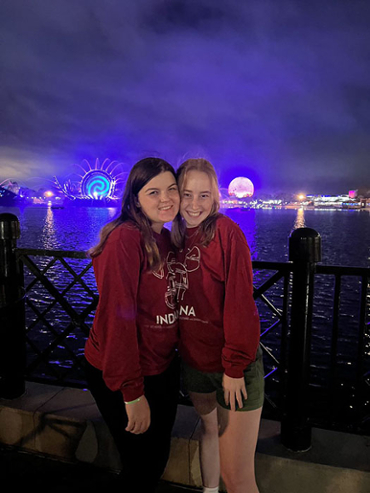 A big highlight for Braunstein was meeting Theron Skees, a renowned creative imagineer in themed entertainment. Disney World's Disney Springs is among his many projects.
"He's my personal hero," Braunstein said. "I'd love to be Theron Skees one day."
Terrell says the trip couldn't have happened without support from Luddy School dean Joanna Millunchick and the school administration.
"These are life-changing for our students," Terrell says, "and life-giving for me
"I look forward to all the things we'll do in the future. It's growing. Keep an eye out. We have stuff coming down the pipeline that will be really cool."
Braunstein says she's a life-changing example. The class put her within reach of her dream to work at Disney, perhaps as an imagineer.
"This class completely changed my career trajectory," she says. "I was originally a library science and education student, but I am now pursuing a Ph.D. in informatics."