This is why the Shoemaker Center matters.
Casey Curtis impresses during the Center's recent fifth-year anniversary celebration. The Kelley School senior entrepreneurship major demonstrates her business startup, Elevate, which involves a phone app that controls elevators.
With a push of a smartphone button, you can ensure an elevator is there when you need it. Indiana University is interested. So are businesses. Curtis says a test will soon be ready for elevators at potential beta sites.
After four years of planning and implementation, Curtis radiates excitement. There are no guarantees, but there are possibilities.
"Assuming we have a successful test," Curtis says, "I hope we can continue selling our platform to universities and large building chains."
Curtis says her ultimate goal is to have a platform that creates a smart elevator capable of being used in any building.
This is what Donna and John Shoemaker envisioned when they invested so much time and money for the Center.
"We wanted to create a bridge from academic learning to real-world living," John Shoemaker says via video.
Their multi-million-dollar gift created the Center five years ago and launched a commitment that goes far beyond money.
The Shoemaker Innovation Center includes the Shoebox, which opened in 2018. It's the incubator through which student entrepreneurs build, launch and sustain their businesses. They receive mentoring from experienced professionals as well as insight from other students.
There's also the Shoemaker Scholars program. It's composed of a select group of up to 10 students from schools and majors across the Bloomington campus. They use their knowledge and experience to help other students succeed as entrepreneurs and innovators.
John Shoemaker stresses he and Donna wanted a project that had present and future value, and with which they would stay involved. They wanted a program for anyone in any on-campus discipline so students, "Could make a business out of something they love."
Curtis's project shows how well that can work.
"The Shoemaker Innovation Center has been amazingly successful," John says.
Travis Brown, senior executive assistant dean of innovation, entrepreneurship and commercialization at the Luddy School of Informatics, Computing and Engineering, worked with the Shoemakers to provide a clear sense of what needed to be done, and the structure to ensure it would be. That was everything from scholarships to operations to programming.
"Their gift made it all possible," Brown says, "and the Luddy School has orchestrated it."
Brown tells the 35 students attending the anniversary event that, "We are celebrating you and the moment. You being here makes it matter." He stresses the importance of participation and taking full advantage of the center's resources or risk losing them.
"You have served as the pioneers," he says. "You have proven that there is demand for this program and value in supporting student entrepreneurs through a university incubator."
Other student presenters talk about the importance of listening to feedback, the value of sharing the journey and helping each other, and refusing to let adversity stop you because, in using a Mike Tyson boxing quote, "Everybody has a game plan until they get punched in the face."
Charlie Brizz, a senior in marketing, sales and entrepreneurship at the Kelley School, got hit hard. His startup, an app called Bargo that showed cover fees, wait times and drink deals for bars around Bloomington's campus didn't work out. He became a Shoemaker Innovation Center client manager where he helps facilitate student startup projects.
"This has been the most impactful experience of my college career," he says. "The community, the space, the ideas, the people all promote the concept of continual growth as a person and a startup."
Thomas Parmer, a Ph.D. student at the Luddy School, is the Shoemaker Innovation Center program manager. He says he has gained invaluable work and management experience, and better understands the entrepreneurship process and how to test ideas in the marketplace.
"Naysayers said it wouldn't work," Brown says, "and by the end of the first semester, we had a nearly full roster. It's stayed popular ever since.
"Five years in, we are on the map. The Shoebox has become a hub of student entrepreneurship doing."
*****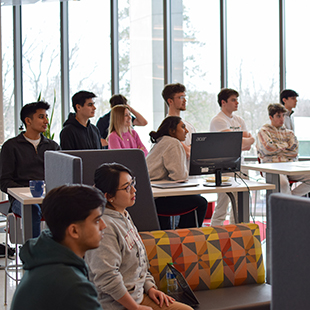 The Shoemaker Innovation Center has room for thirty teams with one to five members per team. Brown, who ran an incubator program in central Florida before taking charge of the Shoemaker Innovation Center, says that ranges from undergraduate to doctoral students.
When accepting teams, Brown doesn't focus on an idea's chances for success.
"The big thing for me is that students believe it's viable and can provide value to the target audience."
The students' challenge – work to prove it.
Brown says some students come up with ideas the night before meeting with him. Others have worked on projects for a long time and are deep into fund raising.
"For each student, we establish goals. They are responsible for working toward those goals."
If teams think they can coast, Brown sets them straight.
"We don't let them just talk about being an entrepreneur, we make them prove it. It's about putting your concept, and yourself, to the test."
It starts by eliminating excuses.
"By eliminating obstacles, Brown says, "students have to look in the mirror and own who they are, what they care about and their motivation."
"We provide all the resources for students to be successful. The only thing that's left is for them to build the thing they want to build."
Success in the center requires focus, commitment and dedication.
"Getting in is easy, staying in is hard because we have a rolling application process," Brown says. "We hold students accountable for working on their startup concept."
Accountability is enforced. Teams that don't put in the time and effort are replaced by ones that will.
The goal is to teach students resourcefulness and tenacity, and entrepreneurship serves as the vehicle for that experiential learning.
"No successful entrepreneur will allow lack of resources to stand in the way," Brown says. "They will find a way to do it."
Collaboration is a priority.
"The best thing about this center is the community," Brown says.
"In this space, you're not trying to outdo each other. If you learn something, share it. If you succeed, everyone here will be more successful. This is a very supportive environment. It's a classroom."
*****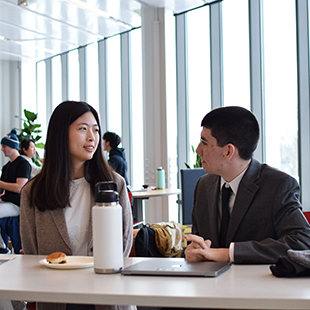 The number of startups served through the program is nearing three hundred, with the students served at least double that. Some of the better-known early success stories include ShuffleMe, founded by Britain Taylor of the Luddy School; Third Design, founded by Cherif Redissi of the Luddy School; Blueprint Stats, founded by Hunter Hawley of the Kelley School; HotDrop, founded by Max Goldberg and Steven Segel of the Kelley School; Jupiter Property Group, founded by Nicolas Narducci of the Kelley School; Solesca, founded by Sam Schierloh of the Luddy School; and Nostra, founded by Arthur Root of the Luddy School.
As for those who don't succeed, learning comes through discovering that they are not as passionate about their initial idea as they thought, so they opt to pursue something else.
"Entrepreneurship is an effective vehicle for self-discovery," Brown says. "For them to realize that about themselves is significant. That's higher learning. It's not about failure, but the freedom to move on to something you care more about. That's what this is all about."