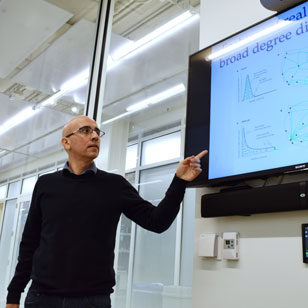 Santo Fortunato, professor at Indiana University's Luddy School of Informatics, Computing, and Engineering, was recognized by the Network Science Society as one of the seven Fellows of the Class of 2022.
The Fellowship is awarded annually to members of the community for their exceptional lifelong individual contributions to any area of network science research and to the community of network scientists, both locally and globally.
Fortunato was recognized by the 2022 Fellowships Award committee "for seminal work in network community structure leading to advances in multiresolution approaches and validation, and for contributions to disseminating network science."
"It is an honor to be recognized by the Network Science Society for my contributions to network science," said Fortunato, who also serves as the director for the Indiana University Network Science Institute and is a member of Center for Complex Networks and Systems Research. "In addition to recognizing my scientific achievements, I was delighted to see that my contributions to advance education in the discipline have also been acknowledged. This honor would not have been possible without the many collaborators I have had over the years, whom I wholeheartedly thank."
Fortunato, along with Luddy Distinguished Professor Fil Menczer, published A First Course in Network Science in 2020, a book that has quickly become the first choice for people without a technical background who want to start their educational path in this area.
"We are thrilled to see Santo recognized by this interdisciplinary community for his contributions to network science and application to critical areas – from medicine to political climates," said Katie Siek, professor and chair of the informatics department. "Santo exemplifies Luddy faculty – collaborating on innovative, interdisciplinary research while inspiring students in the classroom."
Fortunato has been with the Luddy School since 2016. His research interests include network science, computational social science, science of science, and climate change. In his leadership capacity at IUNI, he fulfills the mission of the institute, by promoting research and development of the foundational aspects of network science such as theories, methods, analytic tools, by strengthening the practice of network science, and by fostering collaborative, interdisciplinary network science approaches to understanding and improving the complex challenges of our world.
Recipients were recognized on July 27 during the virtual NetSci 2022conference, which is the flagship conference of the Network Science Society and aims to bring together and foster multi-disciplinary communication and collaboration among leading researchers and practitioners in network science.
"IU is one of the leading institutions for network science, and Santo has been a pivotal player in building and promoting that research," said Kay Connelly, Luddy's associate dean for research. "It is nice to see his contributions to the field recognized by this honor."