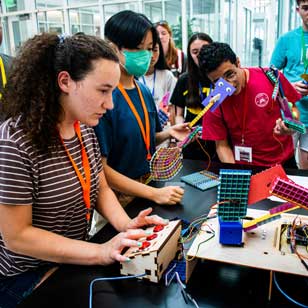 The Luddy School Precollege Summer Program returned to its in-person format for the first time since 2019 by welcoming 92 high school students who immersed themselves in the week-long, hands-on technology-focused camp.
"The nature of a precollege that encompasses an entire school is that each year we will have a different mix of people and technologies," said Matthew Francisco, a lecturer in the Luddy School and the director of curriculum for the program. "Each year is its own unique story. This year the students are exploring, deliberating, and thinking about how to create systems that interconnect and make use of four broader technological areas: Networks and Complexity, Virtual Worlds and 3D Modeling, Physical Systems, and Storytelling and Language."
The participants came from around the country to experience being a part of a design organization. Together with their classmates and a group of faculty, staff, undergraduate, and graduate students, they explored topics that span the breadth of academic opportunities offered in the school.
"The Luddy Precollege Program was a phenomenal time. With a wide variety of activities, there was never a dull moment," said Nathan Beerbower, an attendee from Avon, Ind. "Being able to choose which sessions to attend led to a personally tailored experience with many exciting opportunities. As someone trying to decide where to study in the technology field, this camp allowed me to try out all the different programs that IU has to offer and narrow down some potential fields of study."
The session topics included AI-driven storytelling, a variety of programming languages, micro:bit puzzles, Arduino programming, and prototyping, including sci fi prototyping.
Students also had the opportunity to learn about iterative design by building robot arms to compete in a fencing tournament with rules that developed in conversation with the students as they tested their designs. Other highlights included music mixing, in which students used Python or JavaScript to mix existing tracks. Additionally, students learned about building virtual worlds using two types of 3D modeling software, Blender and Unity.
The sessions not only demonstrated and taught the various technologies but provided context to explore the broader purpose and applications of the tools in the real world.
"I made new friends and learned new skills such as coding with python, using scratch, and learning to 3D model," said Akielah Edwards, a participant from Indianapolis. "The sessions really helped me better understand the different subcategories of computing and utilizing technology for various aspects in my life. Luddy opened up new and interesting possibilities for my future career as an engineer. Aside from learning these new skills, I also just had a lot of fun with the activities our counselors provided."
"The main goal for me to see in these students is that they have a spark that not only motivates them to learn and explore more but to inspire experts and others with skills to share their knowledge and their experiences with them," Francisco said.
But the experience wasn't confined to the classroom. The students also connected and built new relationships during the on-campus experience, which included meals and housing in an IU residence hall and activities such as bowling at the Indiana Memorial Union, swimming at the IU Outdoor Pool, and dinner on Kirkwood Avenue in downtown Bloomington.
"Full of trying new things, meeting new people, and interacting with IU staff and students, the Luddy Precollege Program is an excellent addition to any high school student's summer vacation," said Beerbower.
Nightly movies, sports, and crafts, as well as a scavenger hunt using QR codes and clues (designed by a Luddy student and counselor), an Olympic-style game night, and a campus tour were also part of the experience.
To learn more about future learning opportunities for high school students, visit the Luddy Precollege Summer Programs page.