Opportunities were everywhere you looked at the Luddy School Precollege Summer Program -- from artificial intelligence to robotics to virtual reality to cyber security and more.
Seventy-five incoming sophomore, junior and senior high school students from around the country and world were challenged mentally, physically, and socially during the Luddy School of Informatics, Computing, and Engineering's annual week-long, hands-on, technology-focused camp.
They joined a group of faculty, staff, undergraduate and graduate students in July to explore topics that encompassed the Luddy School's many academic opportunities.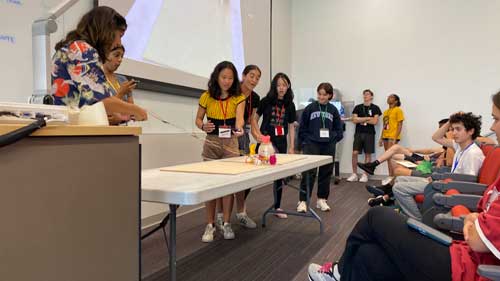 "A student can say, I've never done these six things before," said Joshua Streiff, director of precollege summer camps, "but these two topics are the most interesting and now I can do them in greater depth.
"It's only possible because Luddy has such a vast array of faculty, staff and students."
Twelve-hour days mixed mental and physical challenges with an over-riding make-it-fun theme. Matthew Francisco, a Luddy School senior lecturer and the program's director of curriculum, called it a "buffet" of learning opportunities.
"They got to understand what we have at Luddy, the different worlds and different ways of collaborating across those worlds," he said. "We kept the curriculum light and gave them lots of areas to explore."
Camp advantages went well beyond academics.
"There is a social aspect to this," Streiff said. "It's a place where they fit in."
Few campers appreciated that more than Noblesville High School senior Quinton Swift, back at the Luddy camp for the second straight summer, and hoping to enroll at the Luddy School for the 2024-25 academic year.
"The lectures were great," Swift said. "The camp had great people, innovative people. They taught us things that will be useful in our future careers.
"I'm very interested in cyber security, and there was a lot of that. We experienced new fields that I never heard of before. It was very memorable."
Ian Perez echoed that sentiment. He came all the way from Puerto Rico because of topics such as artificial intelligence and robotics.
The senior said the camp helped him better understand computer science, and get more insight into what he wants to do with his future.
Streiff said students walked almost five miles a day beyond expending intellectual energy and engaging in cool projects.
Consider the course, "Rapid prototyping -- design your dream invention," run by human/computer interaction masters' students Maliha Hashmi and Mayuka Lokre. In one session, three student teams built Lego models of an airplane, a parking tower that would park your car for you and an AI mobile mini-refrigerator called Fridgy that had wheels and would deliver food or medicine.
Then there was Luddy's version of Hebocon, where students intentionally built the worst robots they could in a competition involving sumo-like robots trying to push each other out of a ring.
Innovation was discouraged.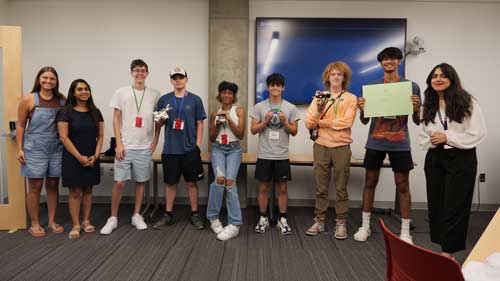 "You got points taken off if you had too much technical innovation," Francisco said with a smile.
"It was a good approach because it lowered stress. It got them to have fun. They were less afraid to plug things in, coble something together and get feedback quickly."
There were classes on lock picking, ethical hacking and 3D scanning of mini sculptures such as star fish and seahorses to then use virtual reality to view the sculptures from every angle. There was even a class on the potential dangers of "cloud pets," stuffed animals that can send and receive messages.
Campers also experienced what it would be like to be a Luddy student. They saw the different things they could learn and do.
That experience drew Akielah Edwards, a senior from Indianapolis, back for a second straight year.
"I liked the environment, the lectures, and staying in a dorm," she said. "Just doing the whole college experience."
The camp's first few days allowed students to explore multiple areas of interest before switching to an immersive experience. It addressed big concepts such as systems design, systems architecture, coding, physical systems and social sciences. Students used microbits -- basically physical computing systems -- and systems architecture to problem solve.
The sessions not only demonstrated and taught various technologies, but provided context to explore the broader purpose and applications of the tools in the real world.
Manya Suresh's interest in design was boosted by learning how to code a web site and work with robots. The high school senior from Columbus, Indiana, focused on courses in computer science, data science and informatics to, "figure out the paths I can do with computer science and data science, and learn about different field opportunities."
Night activities related to daytime sessions, but with a more lighthearted approach.
Monday night was for casino games, which Streiff described as probability games.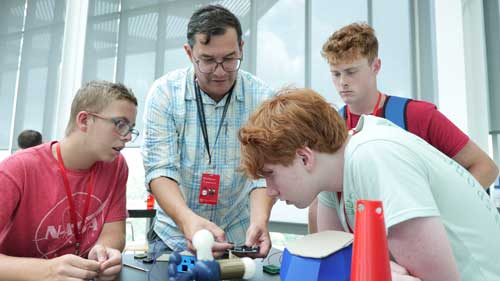 "You have all sorts of math discussions without calling it math," he said.
Tuesday night activities ranged from kicking soccer balls to making boats to float down a canal to making paper airplanes and throwing them off the highest point of the Memorial Unition.
Wednesday afternoon had swimming at the IU pool. Later, there was design work at a residence hall. The final night offered a carnival that featured fantasy gaming, game design and narrative structure design.
Through it all, students connected and built new relationships. Camp counselors served as mentors to provide insights into what the Luddy School offers.
The camp remains a big recruiting tool. Francisco said 19 students who attended last year's camp enrolled at Luddy last fall.
"We'd love for all of them to come to Luddy," Streiff said. "If they go to a STEM school, it's a success. If it's Luddy, so much the better."
Added Francisco: "Students are in the hunt for colleges. They want to know what the culture is like, and what opportunities are available.
"You don't know until you are here and ask questions. They asked a lot of questions. They were very enthusiastic. For recruiting purposes, a camp like this is critical."