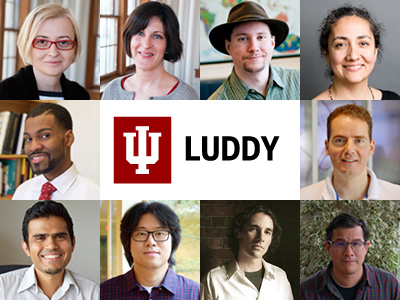 The Luddy School of Informatics, Computing, and Engineering is pleased to announce promotion and tenure for several faculty members, including the school's first-ever teaching professors.
Stasa Milojevic and Selma Šabanović were both promoted to professor of Informatics, while four other faculty members—Devan Donaldson, Eleftherios Garyfallidis, Vikram Jadha o, and Minje Kim —were promoted to associate professor with tenure. Justin Wood , an associate professor, was granted tenure. J Duncan and Shabnam Kavousian were named teaching professors, the highest rank for non-tenure track faculty, and Matthew Francisco was promoted to senior lecturer.
"The Luddy School has built its reputation on the vision and research of its faculty who are respected leaders in their fields," said Joanna Millunchick, dean of the Luddy School. "Our dedicated educators are richly deserving of their promotions, and their dedication to our students and the idea that technology can solve the problems of tomorrow strengthens our school and Indiana University."
Milojevic is the director of Center for Complex Networks and Systems Research (CNetS), which fosters interdisciplinary research in all areas related to complex networks and systems. Additionally, she is a Grant Thornton Scholar and a fellow of Rob Kling Center for Social Informatics . Milojevic's research focuses on methods regarding uncovering and explaining the fundamental principles that govern contemporary science.
Šabanović founded and directs the R-House Laboratory for Human-Robot Interaction, which focuses on the study and design of assistive robotic technologies in different social and cultural contexts. She also serves as the school's associate dean for graduate education.
Both Duncan and Kavousian engage in teaching and learning research , and Duncan serves as the associate chair of the informatics department. Duncan teaches in areas such as cybersecurity, mathematical foundations, and application development. Kavousian also teaches mathematical foundations, as well as information infrastructure and python programming.
Donaldson directs the Master of Library Science program as well as specializations in A rchives and Records Management and Digital Curation . His research interests include digital repositories, data sharing practices, data quality, mass digitization, research data management, trust, security, and users' perceptions of archives and archival content.
Garyfallidis is part of the Department of Intelligent Systems Engineering and is leading a research group for neuroengineering, which applies techniques like medical imaging and machine learning to MRI analysis to better understand the brain and study disease. The group is home to Diffusion Imaging in Python (DIPY) , which he founded.
Jadhao is also part of the Department of Intelligent Systems Engineering and focuses on developing and investigating computational models to understand the structure, assembly, and flow of soft materials at the nanoscale while advancing their functional properties for medical, environmental, and energy applications.
Kim leads the Signals and AI Group in Engineering (SAIGE) research group, which researches machine learning to solve real-world signal processing problems. He is also an Amazon Visiting Academic, consulting for Amazon Lab 126, and is part of the Department of Intelligent Systems Engineering.
Wood works in the cross section of artificial intelligence and animal informatics with the goal of better understanding the origins of intelligence. He aims to reverse-engineer the origins of intelligence and build machines that learn like newborn animals. Wood is also the program director for the Master's in Human-Computer Interaction Design.
Francisco teaches in areas such as prototyping and computer and information ethics. He also runs the Luddy Pre-College Summer Program .