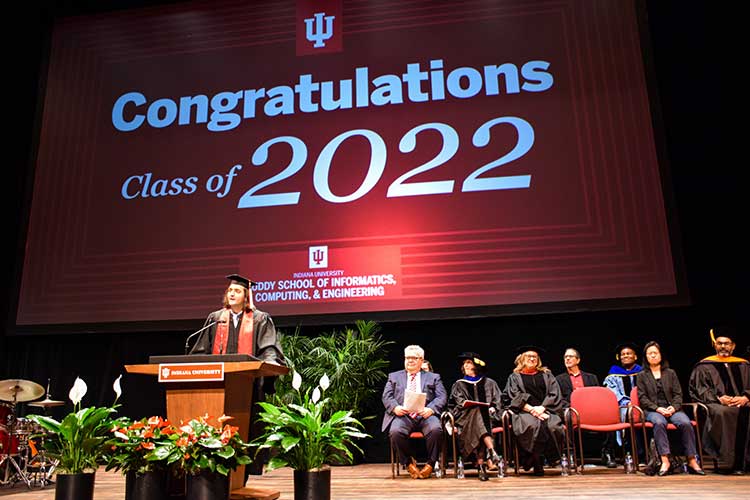 The Indiana University Auditorium was alive with Luddy School of Informatics, Computing, and Engineering graduates to celebrate nearly 950 members of the Class of 2022.
More than 1,500 guests gathered at two ceremonies for Luddy's first in-person Graduation Recognition Celebration since 2019. In addition to celebrating the accomplishments of the graduates in and outside of the classroom, students were praised for their adaptability and flexibility as the pandemic greatly altered their academic experience.
Luddy conferred bachelor's degrees in computer science, informatics, and intelligent systems engineering, as well as master's degrees in computer science, informatics, data science, human-computer interaction, information science, intelligent systems engineering, library science, and secure computing. Ph.D.s in computer science, informatics, information science, and intelligent systems engineering also were awarded.
"Adapting to change is the nature of what we do at the Luddy School," Interim Dean Dennis Groth of the Luddy School said at the ceremonies. "Technology is about rapid change and learning to innovate to overcome obstacles. Those are the skills you've learned during your time here, and even as we move toward a brighter world, one that is doing its best to put the pandemic behind it, you find yourself uniquely prepared to handle the challenges to come.
"I also want you to envision what life will be like five, 10, even 20 years from now. During your time here, you've seen technology move from the realm of concept to the real world. Some of you will be instrumental in the next phases of development. For instance, Artificial Intelligence and machine learning are just scratching the very surface of their potential, but there is nothing artificial about the intelligence you have gained during your time at the Luddy School."
Recently named Ruth Lilly Dean of Libraries at IU and MLS alumna Diane Dallis-Comentale addressed our master's and Ph.D. students.
"Take the time to define this for yourself because this is what makes you special," Dallis-Comentale said. "You have earned your place to shape tomorrow, confront problems and create solutions. All that effort and perseverance now comes together to open a world of opportunity for you. Now you can perform your values and knowledge to impact the lives of people who are touched by information, data, technology, which is pretty much everyone on the planet."
Mike Langellier, CEO of Techpoint, addressed the undergraduate audience and encouraged graduates to think of life as less of a resume and more of a story of which they are the author.
"Don't let others or external expectations write story," he advised.
Student speaker Sohile Ali, who is graduating with master's degrees in Human Computer Interaction Design and Intelligent Systems Engineering, shared a few parting words from what he jokingly called a "modern day philosopher," Conan O'Brien.
"Nobody in life gets exactly what they thought they were going to get," Ali said. "But if you work really hard and are kind, amazing things will happen."
Jude Gussman, who is graduating with his B.S. in Computer Science, passed along sage wisdom from his grandma, who always told him that "all you have to do is your best."
Gussman is right. Congratulations to the class of 2022. Do your best!