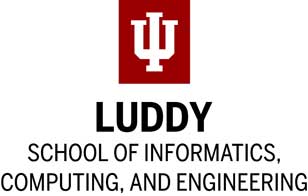 A group of graduate students from the Luddy School of Informatics, Computing, and Engineering recently took home second place in their division in the Crossroads Classic Analytics Challenge, a case competition that asked participants to use data science and predictive analytics to help companies combat phishing attacks.
The second-annual event, hosted by Purdue University's Krannert School of Management, featured teams from IU, Butler University, Purdue, and the University of Notre Dame. The IU team, Team Verdant, included Luddy data science master's students Samardeep Gurudatta, Rohan Shukla, Mahadevan Iyer, and Meghana Boinpally. The group found out about the competition thanks to Assistant Professor of Informatics Patrick Shih.
"Professor Shih forwarded us the event's email, and fortunately, I found my other classmates interested and motivated to come together as a team," Shukla said. "Each one of us brought their respective unique set of capabilities to the team, which diversified our perspectives and made the team better."
Teams were asked to set up a system in which included the ability to search, identify, and organize data for analysis, then compare that analyzed data to an internal dataset provided for the competition with the purpose of detecting whether an email was a threat or not. Teams also were required to create profiles of phishing emails and sell a solution to the problem from the point of few over a new cyber security accounting firm.
"Wrangling the metadata and feature engineering taught me a lot," Gurudatta said. "There were a lot of new things to learn in the domain of preprocessing as well as modeling various efficient algorithms. Additionally, I learned how to present and sell a product in a pitch, too."
Team Verdant took home a $2,000 prize from the event, which was sponsored by the Indiana Innovation Institute (IN3), ECS, and Midcontinent Independent System Operator (MISO). Beyond the monetary award, the knowledge gained from the competition will be a huge asset to the team. "Competitions like these might seem intimidating on the surface, but it is a great opportunity to try and learn something new," Boinpally said. "Simply by participating, one can gain a lot of exposure to domain knowledge ranging from brainstorming to pitching the ideas to the judge. Even if one is unable to complete their project, I think they might have a better understanding of how to develop product in a very short period of time."
The Crossroads Classic Analytics Challenge ran from Jan. 14-Feb. 25.
"The State of Indiana features some of the world's top STEM programs, and the CCAC truly showcases the quality of our students and the strength of the data science programs within the state," Shih said. "I'm proud of Team Verdant, who represented IU and won second place out of more than 60 participating teams at this year's event. I hope that student teams in our program will continue to perform well in future years."