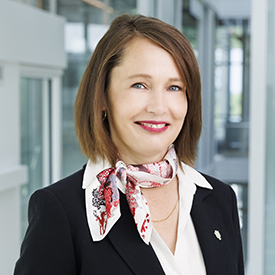 Joanna Millunchick wasn't actively looking to leave the University of Michigan's College of Engineering.
After serving in a variety of capacities for 25 years, she had risen to an Arthur F. Thurnau Professor in the Department of Materials Science and Engineering, and the associate dean for undergraduate education in the College of Engineering. But when she heard about the opportunity to become dean at Indiana University's Luddy School of Informatics, Computing, and Engineering, and School of Informatics and Computing at IUPUI, she was intrigued. She had an affinity for the Big Ten, and was drawn to the unique nature of the school.
"The more I learned about the mix of disciplines and the breadth of research, the more excited I became," she explained.
As a materials scientist, Millunchick was used to the paradigm that the structure of a material dictates its properties. Understanding how different disciplines frame their research questions was at the front of her mind when she began conversations with Luddy.
"At most places, informatics has grown out of library science or computer science,," Millunchick said. "At Luddy, the process went the other direction. Informatics was established as the focus of the school, and later computer science, library science, and engineering became part of the school. Informatics gives us an opportunity to frame our research questions differently and changes the way we talk about and teach our disciplines. That's exciting to me."
Millunchick views higher education as being an inflection point, particularly in the information technology field.
"Things are changing rapidly in our society largely due to the intersection of information, computation, and engineering," Millunchick said. "I want to be part of defining what that intersection looks like. That's why I'm here."
Millunchick's journey to Luddy started well before her time In Michigan. Millunchick studied physics as an undergraduate at DePaul before moving on to graduate work in Northwestern in materials science and engineering. Following a stop at Sandia National Labs, she landed in the MSE department at Michigan where she taught and developed nanoscale semiconductors for optoelectronic and photovoltaic applications.
Technology had always been a passion, and she was quick to recognize the potential of the latest innovations.
"I loved Palm Pilots when they first came out," Millunchick said. "They created a new way of writing called Graffiti, that predated most commercially available handwriting recognition technologies."
Her affinity for new technologies also made its way into her classroom. Early on, she recorded the audio of her lectures so students could go back and listen to them. After realizing that an hour was too long, she pivoted to recording short videos in response to students' "muddiest points" and shared them on Canvas.
She discovered she could see who was accessing that information and how it correlated to performance outcomes – her first foray into data science. That desire to be as helpful to her students as possible turned into a scholarly pursuit.
She was fascinated by what she was learning and launched into education research. Millunchick learned theoretical frameworks about how people learn, and she tried to understand the best uses for technology in the classroom.
That passion for understanding the impact of technology put her on the path to academic administration and has led her to Indiana University. After six weeks on the job, she's still getting acclimated to IU, Luddy, and SoIC. She knows she has a lot to learn, but she also has a vision for what she wants to accomplish.
"I want to enable this place to be the best it can be," Millunchick said. "I'm really looking forward to getting to know everyone and collaborating on what a joint vision can be. I see so many connections and so much possibility. I really want to be a part of raising our profile."