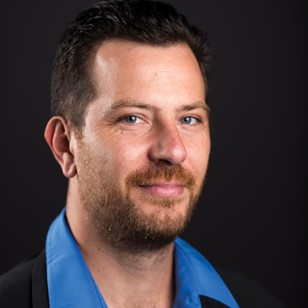 Filippo Radicchi
Filippo Radicchi, an associate professor at the Luddy School of Informatics, Computing, and Engineering, has been awarded a grant worth $450,000 from the United States Air Force Office of Scientific Research to study the optimization of complex networks, including those impacting the spread of infectious disease.
The proposal, "Theoretical and algorithmic approaches to optimization problems on complex networks," will consider problems related to information sampling and seeding, and how it develops. For instance, Radicchi and his team will study the spread of infectious disease in a social network, including monitoring who is sick, healthy, or recovered, then develop a strategy to reduce uncertainty. They also will look at how the spread of disease can best be contained by developing methods or reducing the spread as much as possible under the constraints of specific resources, such as limitations on the number of available vaccines or on the socio-economic impact of contact restrictions.
"This is a fantastic opportunity to work on challenging theoretical problems with broad applicability in the real world," Radicchi said. "The project aims to devise and test algorithms that will approximate solutions of optimization problems and that can be applied to large-scale networks. Novel optimization strategies that we hope to develop will include the combination of state-of-the-art methods into hybrid algorithms. Also, the goal of the research is to establish theoretical baselines for the objective assessment of the performance of the optimization algorithms."
Research will focus on the generalization of the problem settings to realistic scenarios, the development of numerical techniques for the solution of the optimization problems, and the establishment of analytical baselines for the assessment of the performance of the optimization algorithms.
"Optimization consists of finding the best solution, among all the feasible solutions, to a problem at hand," Radicchi said. "This is a situation faced in myriad practical applications where one has to make the best or most effective use of available resources. Networks or graphs are mathematical objects well suited for the description of real-world systems, ranging from technological to social systems. The study of optimization problems on networks is therefore useful in a multitude of real applications."
The grant runs through September 2024.
"Research at our school makes an impact in so many different arenas," said Kay Connelly, the associate dean for research at the Luddy School. "Although Filippo's work is quite theoretical, the practical applications—such as understanding the spread of a disease like Covid and how to minimize it—has the potential to significantly shape our lives."