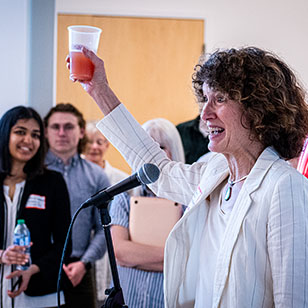 For a decade, the Laurie Burns McRobbie Serve IT Clinic has used technology for social good while serving the Monroe County nonprofit community.
That's cause for celebration.
The Serve IT Clinic commemorated its 10th anniversary with a reception April 12 in the Luddy Hall East Lobby that included a poster session, networking opportunities, and refreshments.
"We founded the ServeIT clinic over a decade ago to give students immersive experiences with communities and causes they might not otherwise encounter, and to strengthen the capacity of Bloomington nonprofits to serve their clients," said Laurie Burns McRobbie, one of the founders of the clinic and the former First Lady of IU. "Beyond this, we knew the clinic's mission would be attractive to a diverse group of Luddy students, thus helping support the school's diversity and inclusion goals, a real a win-win-win. I think for all of us involved in the founding of the clinic, it's exceeded our expectations and our hopes. What a joy to see its impact 10 years later!"
Serve IT connects IU students who have in-demand technology skills with nonprofit organizations that need them. The program provides internship credit to students who want to use their skills to make the Bloomington community a better place and enables IU students to gain real-world experience.
"Serve IT was the single most impactful program for me while studying at Indiana University," said Raven Hedden, Serve IT and Luddy alumnus (B.S. Informatics, 2018), who is now an Apigee Customer Engineer at Google. "The real-world experience I gained proved to be invaluable to my career. While at Serve IT, I interacted with actual clients, created full-stack applications, learned the importance of leadership and team communication, made longstanding friendships with other enthusiastic techies, aided important nonprofits around the Bloomington area, and so much more. The skills I learned at Serve IT directly prepared me for many of the responsibilities of my career today."
It benefits the nonprofits as much as the students.
"They were so organized, responsive, and really listened to our needs," said Dayna Thompson, Serve IT client from IU Health. "It was so helpful having them to work with."
Student interns receive course credit and are placed on teams that are matched with a nonprofit organization. These groups work to create websites, databases, and provide graphic design and computer hardware for organizations.
Interns also visit local after-school groups, such as the Boys & Girls Club, to teach children basic computer science standards.
"I hear over and over again how much students like this way of learning," said Una Thacker, director of the Laurie Burns McRobbie Serve IT Clinic. "Students can return semester after semester to gain experience in client management, team management, project management, inter-team project handoffs, training, and consulting. When it goes well, the students develop skills related to self-driven learning, and are motivated by the relationship they have developed over time with their clients, team members, and coaches. They contribute to projects that matter, make their communities better, build their networks, and ensure their resumes shine."
Alumni of the program have gone on to careers at Google, Apple, Amazon, Target, Ernst & Young, Eli Lilly, and Salesforce, and many others.
Since its creation in 2011, 1,280 students have served 132 clients through 324 projects. The clinic has provided an estimated $5 million in technology services to its clients.
The Laurie Burns McRobbie Serve IT Clinic is housed in the Luddy School of Informatics, Computing, and Engineering, and is a joint project with the Kelley School of Business and the O'Neill School of Public and Environmental Affairs at Indiana University.