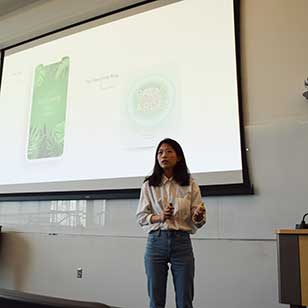 In its seventh year, the Cheng Wu Innovation Challenge competitors impressed the judges with their innovative ideas and thoughtful presentations.
Eight teams of students presented their technological innovations to a panel of judges during the Cheng Wu Innovation Challenge, a competition that encourages students to use technology in innovative ways to address compelling problems. Students with a wide variety of academic backgrounds competed in Luddy Hall's Dorsey Learning Hall for a total prize of $20,000.
"The Cheng Wu Innovation Challenge continues to support our most technical students in their pursuit of radical innovation. When we first launched the competition, we worked to carefully distinguish innovation from entrepreneurship to ensure that we were establishing judging criteria that would celebrate the most technologically innovative solutions," said Travis Brown, senior executive assistant dean of innovation, entrepreneurship, and commercialization at the Luddy School of Informatics, Computing, and Engineering. "The caliber of the proposals we receive and the strength of the finalists' presentations suggest that we got it right. In turn, the Cheng Wu Innovation Challenge has become one of the core competitions for student innovation and entrepreneurship at Indiana University."
After a morning full of presentations, the judges had a difficult time determining the winners of the event. Ultimately, three student groups were recognized for their technological innovations.
The top prize of $10,000 was awarded to M.S. in Human-Computer Interaction-Design student Jenny Chou's Palm Garden. Palm Garden is an app plus physical product to improve people's mental and physical well-being at work. Palm Garden presents a tropical escape that reminds users to relax and exercise their hands.
"The most exciting part is that the judges really think my project is going to help people, and it is standing out because of its user-centered design," said Chou. "This is everything that I'm trying to focus on. I really hope my product can help people relax their hands and their minds during stationary work every day."
Chou plans to use the fund to purchase prototyping materials and finish more of the art illustration and app development to get the product soft-launched.
"This fund will greatly expedite the development of Palm Garden," she added.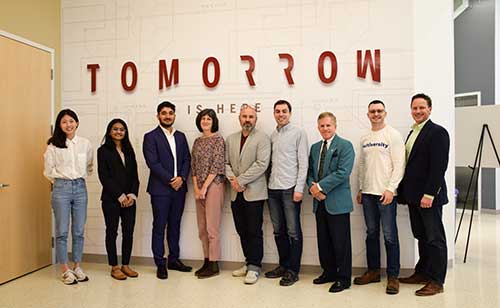 Two additional teams received a $5,000 award to continue developing their products, i-Sight and Multiversity.
i-Sight, an all-in-one solution for obstacle detection, navigation assistance, and reading assistance for the visually impaired using computer vision and image processing techniques, offers integrated holistic solutions to alleviate the challenges faced by this population.
i-Sight team members Abhijeet Vichare and Raksha Rank, both pursuing their B.S. in Data Science, plan to use the funds to work on enhanced prototypes of their chest harness, adjustable stick, and headband.
Tony Dattolo (B.S. Computer Science) also received $5,000 for Multiversity, a decentralized marketplace for professors and students that cryptographically verifies degree requirements. Multiversity would facilitate a decentralized autonomous organization (DAO) to offer a course marketplace, employer curriculum proposals, and smart degrees, among other features, using blockchain technologies to better align students with the courses and credentials they need for the jobs they want.
Two additional teams received honorable mention:
Steerable LCE Microfiber – Adam Morrow (B.S. Intelligent Systems Engineering)
A steerable microfiber using shape-changing material for use in minimally invasive surgery.
Third.Design – Cherif Redissi (B.S. Data Science)
An online presentation tool in 3D.
Other teams included:
Concilium – Micah Roberson (B.S. Finance and Entrepreneurship/Corporate Innovation), Arpan Ojha (M.S. Data Science), Parth Kapil (M.S. Computer Science), and Jay Amlani (M.S. Computer Science)
A guidance counselor project management SaaS solution for high schools.
Elevate – Casey Curtis (B.S. Entrepreneurship), Casey Daleiden (B.S. Informatics), Maddie Athanasiou (B.S. Economic Consulting), and Matteo Vidali (B.S. Computer Science, Informatics, Mathematics)
A mobile app that allows building residents to track and control elevators from their phone.
R-DAS – Naveksha Sood (B.S. Computer Science)
A rational driver monitoring and assisting device to keep you company and keep you safe on the road.
The panel of judges included:
Alain Barker, Senior Lecturer of Music Entrepreneurship, and Director of Music Entrepreneurship and Career Development, Jacobs School of Music
Brad Wisler, Founder and Former CEO of Periodic
Donald F. Kuratko, Jack M. Gill Chair of Entrepreneurship, Professor of Entrepreneurship, and Executive Director of the Johnson Center for Entrepreneurship & Innovation, Kelley School of Business
Selma Sabanovic, Associate Dean for Graduate Education, Associate Professor of Informatics, and Associate Professor of Cognitive Science, Luddy School of Informatics, Computing, and Engineering
Stephen Moseson, Founder, Mosi Audio
The Cheng Wu Innovation Challenge was launched in 2016 as an opportunity for students to develop technological innovations without the constraint of building a business around their ideas. Each team must have at least one student majoring in a Luddy School program. Luddy alumnus and serial entrepreneur Cheng Wu established the fund that sponsors the challenge.