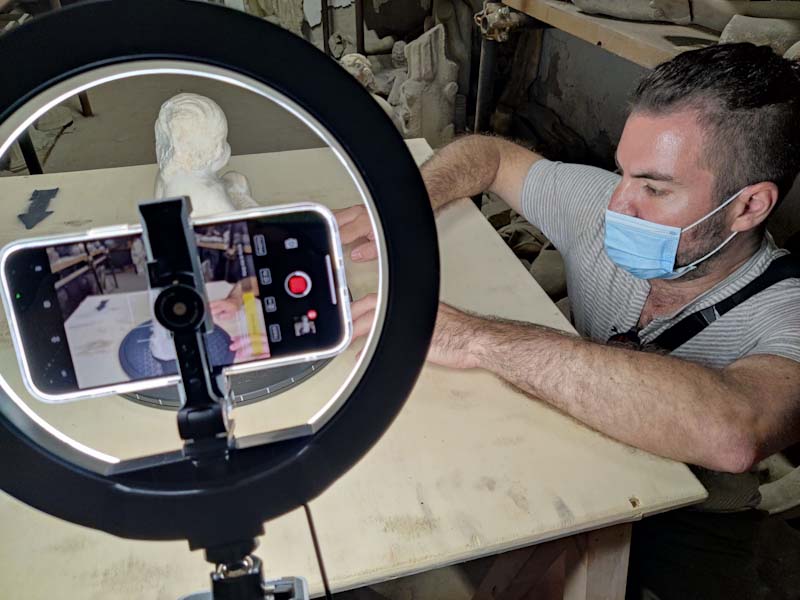 History will come alive in exciting new ways thanks to a collaboration between the Luddy School of Informatics, Computing and Engineering's Virtual World Heritage Lab and Italy's Museo Archeologico Nazionale di Napoli (MANN or National Archaeological Museum of Naples).
Called the MetaMuseum, and using the lab's cutting-edge 3D digitization technology, Roman Empire artifacts that only a few experts have ever seen will become available to the public, researchers and students. Archeologists will provide written summaries of each object.
"The Luddy School is synonymous with far-reaching projects that blend technology with the real world, and our collaboration with one of Italy's greatest museums is a perfect example of one of those projects," said Joanna Mullinchick, dean of the Luddy School. "Linking our Virtual World Heritage Laboratory with the National Archaeological Museum of Naples showcases our innovative strengths and keeps us at the forefront of international educational and research opportunities."
The MANN has sculptures, frescoes, mosaics, tools and more from ancient Rome and the cities of Pompeii and Herculaneum, which were destroyed by Mt. Vesuvius' volcanic eruption in AD 79. Thousands of artifacts are stored in the museum's bottom three floors and have never been displayed.
"There are things in storage that most people have never seen before, and that are amazing," said Gabriele Guidi, professor of informatics and Virtual World Heritage Laboratory co-director.
The project is set to start Oct. 1 and last five years. The lab will digitize 400 selected artifacts -- "masterpieces that can't be seen by anybody," Guidi said -- because if they tried to do all the of museum's stored collection, it would take "50 years."
The MANN's Cristiana Barandoni and Floriana Miele will select the artifacts.
Previous Virtual World Heritage Laboratory projects include digitizing Roman sculptures in Florence's Uffizi Gallery. What makes this project unique, Guidi said, is "These sculptures are hidden treasures."
"The MetaMuseum is innovative and will offer our graduate students an endless source of new topics for research and scientific publications," said Bernard Frischer, professor of informatics and co-director of the Virtual World Heritage Laboratory.
Guidi said the MANN has an "unbelievable collection."
That includes sculptures of the Farnese collection like the Hercules or the Bull, a mosaic of Alexander the Great fighting the Persians, and much more.
"We are lucky to work in the storage," Guidi said, "but out of the storage, they have some of the most memorable collections. There are sculptures three meters tall. You can't imagine. We will work in an environment that is amazing."
Guidi, who has done 3D imaging research since 1999 after earning a Ph.D. from Italy's Universities of Florence and Bologna, won't arrive in Naples until December. He has worked on sculptures by Donatello, one of the 15th Century's best Renaissance artists, and a painting by Leonardo DaVinci.
MANN officials knew Frischer and Guidi and their work, which facilitated the collaboration.
"I am delighted that my new colleague, Prof. Gabriele Guidi, who came to our university in January 2022 from the Politecnico di Milano, has already used his vast experience working with important Italian cultural institutions to start this new project with the MANN," Frischer said.
The project will enable students and researchers to find answers to ancient questions. With a 3D model, you can rotate, cut, restore and even color artwork, tasks "impossible to do physically."
"It's interesting for a visitor," Guidi said, "but imagine if you are a scholar who wants to study. You can access the object at a level not possible otherwise."
Many of the sculptures, now white, were once colored. By finding pigment residue, Guidi said, researchers can digitally restore the objects to their original color.
"You can figure out what the coloring was," Guidi said. "It's not possible to do as a physical thing."
The project will also do 2D imaging of frescoes that have been removed from Pompeii to protect them from the weather.
"Some of them are amazing," Guidi said.
Some need restoration from human folly.
"An ugly thing used to be done where they'd cut off a piece of a fresco, a dog for example," Guidi said. "They'd cut off all the dogs and put them together, which is horrible."
It's not unfixable. Using 2D high resolution and artificial intelligence, he said, "We can find the correct links and try to reassemble it in the original way."
As with so many things with Luddy and the lab, call it doing what others can't.