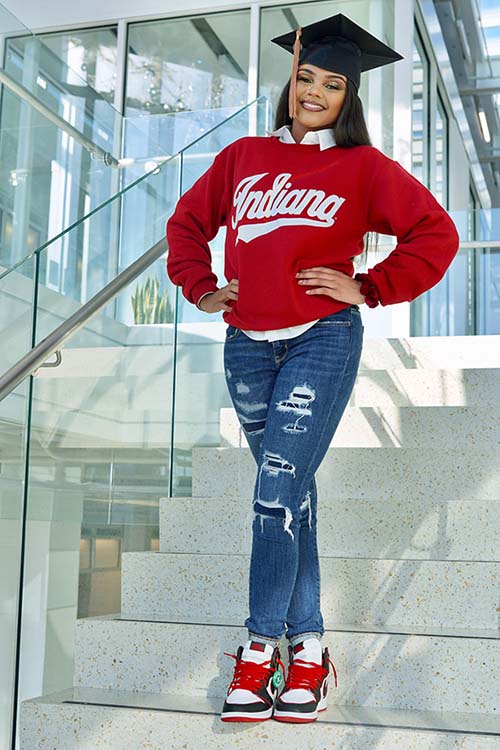 Xandria McDowell never planned on coming to Indiana University, but the first time she set foot on campus, it just felt right.
For McDowell, a Groups Scholar from Fort Wayne, an information session about the Intelligent System Engineering program at the Luddy School of Informatics, Computing, and Engineering changed everything.
"I thought to myself, 'I want to be in that school.'" McDowell says. "I want to do engineering, and nothing is going to stop me."
And nothing did.
Five years later, McDowell is the first Black graduate of Luddy's engineering program, which launched in 2016. She received both her B.S. and M.S. in intelligent systems engineering earlier this month.
Her first semester on campus as a freshman was not easy. She was dealing with personal issues and overwhelmed by the transition to college life. Some people doubted whether she could make it in the program.
McDowell set out to prove them wrong and quickly found her support system in the Luddy School. She became part of the community in the Luddy Living Center and connected with her classmates outside of the classroom. Director of Student Engagement and Success Tiana Iruoje, Assistant Dean for Diversity and Inclusion Lamara Warren, Director of ISE Student Services and Curriculum Kelly Nelson, Chair of Intelligent Systems Engineering Martin Swany, and countless other faculty and staff became a network that supported and cheered for McDowell along the way.
Swany reminded her that engineering is not an easy path for anyone and that she shouldn't compare herself to others.
"Xandria was incredibly determined, and she worked so hard," Swany says. "I'd see her in study areas or by a whiteboard at all hours. When she hit her stride, it was a joy to watch. I'm so proud of her."
Early on, McDowell felt the weight of her race. She felt that people thought she was receiving preferential treatment or was only in the classroom to meet diversity requirements. There were even times when she thought maybe they were right.
But following her first year, she started developing deeper relationships with her classmates and discovered that her initial concerns weren't right.
"I always felt like I didn't belong in the room, but my classmates didn't think that," McDowell says. "It was all imposter syndrome where I felt like I didn't belong."
Eventually she started seeing the value of what she brings to the table.
Warren was always one of her biggest supporters.
"Initially, Xandria did not have any confidence in her abilities due to a lack of exposure to the field, internal self-doubt, and a lack of support and encouragement from others," Warren says. "However, through resilience and hard work, she became aware of her abilities. Consequently, her belief in herself and all that she could accomplish grew as she flourished academically. Once her belief in herself was established, she became unstoppable."
Her support team always had her back. Swany helped her expand her network outside of the school by helping her find a mentor who is a Black engineer. McDowell realized that there were other groups in the school in which she could find her community. She joined the National Society of Black Engineers When she first joined NSBE, she was one of the few women in the group.
Through these groups, she found peer mentors in the school, gained leadership experience, and made connections that are critical for Black engineers and computer scientists. She also learned that she could help provide those connections for other people.
Now, as a graduate advisor for NSBE, she helps provide a community for other Black students who want to see themselves in engineering and computer science. She has loved helping to create and enhance the community for others because it made such a difference for her.
"Xandria is both influential and supportive as a leader. Not only has Xandria made history, but she has also helped create an environment where many more can follow her lead," said Austin Bond, a junior majoring in computer science and president of NSBE. "I noticed with NSBE that she has set an example and given a sense of direction for myself and others. As she continues in life, I know that she'll continue being a pioneer while leading and inspiring others along the way."
Being a leader has helped her recognize her strengths and gain confidence in herself.
"This past year has helped me gain confidence in myself," McDowell says. "I've been able to see the impact I've had on other people. I didn't think anyone was watching me, but they were. I do good work, and there are good people who notice that. It was hard for me recognize that what they were saying was true."
No one who has been cheering Xandria on is surprised by why she's accomplished.
"Watching Xandria grow these past several years has been a true gift," said Nelson. "She came in focused and firmly determined to meet her goals. Throughout the semesters, she somehow accessed and sustained enough positivity to steadily celebrate each milestone, even if she encountered challenges along the way. While her accomplishments are many, what is so special about Xandria is that she is a remarkably self-aware human being. She exhibits self-discipline, self-love, self-respect, and self-direction—all traits embedded in her humble nature."
Now, as she graduates and moves on to a job at a leading aerospace company, she hopes she can continue to be a role model for other Black students, especially women who want to pursue careers in computing.
"I want people to know that no matter where they come from, no matter what their background is, they can do it. They belong," McDowell says. "You really don't know what you're capable of. Anything you can dream of can come true. Every day, you get up and keep trying and keep believing. You can do it."